IN JUNE, BIKEFIT IS DISCOUNTED BY 20%
The Mapei Sport Research Center reopens the doors after the lockdown, respecting the highest safety standards. In order to return to operation after the closure imposed by the health emergency required at Covid-19, all the measures controlled were guaranteed in the laboratories and offices of Olgiate Olona (Varese) in order to protect the employees and customers of the services of the qualified Italian medical-sports center.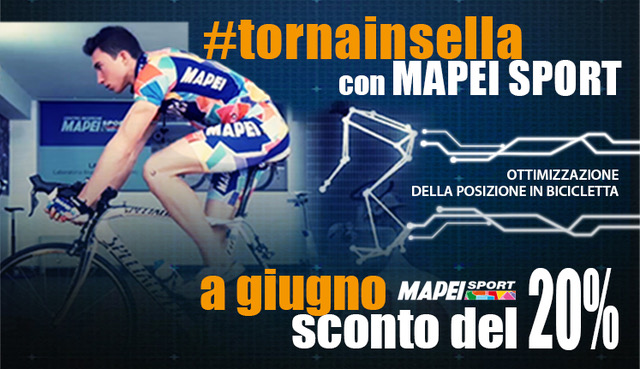 «Taking care of yourself is important, especially in this period. Sport helps health, health helps sport. It is not new, but returning to training in the open air reminded us of how valuable sporting activity is for our psycho-physical well-being. After a really difficult period, we want to meet those who have started running, pedaling and playing to do it correctly and productively. This is why we decided to offer a 20% discount throughout June on some of our most popular biomechanical services, such as the bikefit» comments the health and manager director Claudio Pecci.
We respect the rules, we restart together. This is the motto of the recovery of Mapei Sport, a structure supported by the MAPEI Group, the world leader in the production of adhesives and chemical products for the building industry. As the head company is at the side of the professionals, of every man and woman who shares with the group the determination, the desire not to give up, to "pedal to stay in balance" in the reconstruction of Italy, so its sports branch wants to dare its medical-scientific contribution. Ethics, transparency, commitment, passion, respect and responsibility are just some of the values ​​which Mapei is inspired by every day and shares with the market, customers, suppliers and collaborators. Mapei Sport is a research center of excellence that operates in the sports field by carrying out scientific research and provides multisectoral assistance to athletes in order to improve their performance.
To find out the details of the #GetBackOnTheSaddle with Mapei Sport promotion and make an appointment: the Mapei Sport secretariat is available from Monday to Friday from 08.30 AM to 01.00 PM and from 2.30 to 7.00 PM, Saturday from 08.30 to 12.30 AM to the following contact details: 0331 575757 / reception@www.mapeisport.it.