Rouleur proposes for this summer a number that promises to be truly special: on the cover there is the Mapei jersey. The champions who have dressed the glorious outfit with the colored cubes recount the story of the ten years of Mapei, painted as "the greatest team of modern cycling".
The director of the British magazine Andy McGrath interviewed Dr. Giorgio Squinzi, athletes such as Paolo Bettini and Andrea Tafi, members of the staff of the team including Dr. Claudio Pecci who leads the Centro Ricerche Mapei Sport and Andrea Morelli, who from the center of Olgiate Olona (Va) is the head of the cycling sector.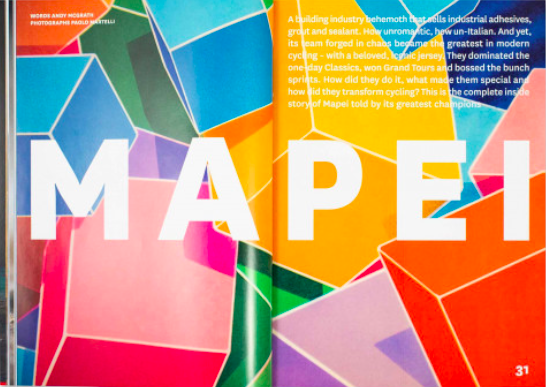 The story, accompanied by beautiful photographs, celebrates the team that with its activity from 1993 to 2002 marked the history of the world of two wheels in perfect Rouleur style. Among the other topics covered in this almost monographic issue, the enfant terrible of cycling Nacer Bouhanni: is he really a bad boy or Mr. misunderstood? And again, the mountains of Slovenia, Desire, Boulting, Bardet, Yorkshire… Enjoy the reading on https://rouleur.cc/issue-19-5.html.