After ten days of holiday, yesterday Fabio Felline returned on the saddle. The 27-year-old from Piedmont, after the northern campaign and the great performance at Tour of Romandie, where he won the opening prologue, went to the Olgiate Olona (VA) Mapei Sport Center, to which he relied on for the physically test like his team Trek Segafredo, to collect useful data for the second part of the season.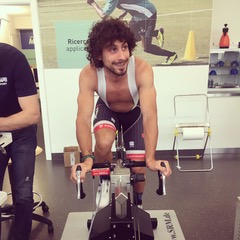 «Fabio has undergone a test battery that included a lame-clay test with a specific protocol developed in Mapei Sport, which allows you to precisely measure the lattice threshold and the hold of the athlete at threshold power. A high oxygen consumption test was performed to evaluate the ventilatory threshold, the efficiency of the cardio-circulatory and respiratory system as well as the maximum power parameters. Finally a sprint test that allows us to get information on the athlete's fast and explosive qualities. Fabio has presented, despite the period away from the bike, in excellent condition and ready to face the top of the season» explains Andrea Morelli, head of Mapei Sport's movement and cycling analysis laboratory.
With encouraging revelations Felline is now ready to fly to Teide for some altitude training to prepare at best Tour de France with captain Alberto Contador and other goals set with his team leader Luca Guercilena.