The annual Scienza&Sport Conference is an event not to be missed for those involved in physical training, football, youth or first team, and for students of sports science. "From the physiological and performance model of the player to modern training strategies" will take place on Saturday 28 March in the conference room of the Sheraton Milano San Siro, from 9 AM to 2 PM.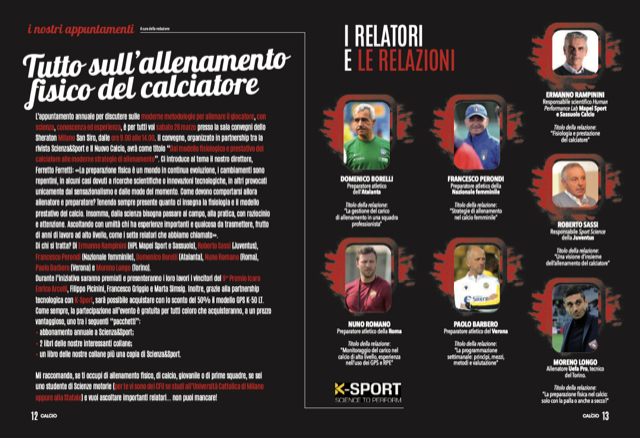 The conference, organized in partnership between the magazine Scienza&Sport and Il Nuovo Calcio, will be attended by seven top-level professionals, with several seasons in Serie A behind them, who will explain and indicate to the audience the modern methodologies to train the players, with science, knowledge and experience.
Among them our Ermanno Rampinini, head of the Human Performance Lab (HPL) of the Mapei Sport Research Center, which within the structure carries out consultancy activities for team sports such as football, starting from US Sassuolo, basketball and for the teams of the Alpine skiing national team, will be present. Together with him, the participants will be able to hear the words of Roberto Sassi (Juventus Sport Science manager), Francesco Perondi (athletic trainer of the women's Italian National Team), Domenico Borelli (Atalanta athletic trainer), Nuno Romano (Roma athletic trainer), Paolo Barbero (Verona athletic trainer) and Moreno Longo (Torino coach).
During the initiative the winners of the 9th Icaro Prize Enrico Arcelli, Filippo Picinini, Francesco Griggio and Marta Simsig will be awarded and will present their works. Participation in the event is free for all those who purchase, at an advantageous price, the annual subscription (4 issues) to Scienza&Sport or 2 books among the texts of the series "Gli Indispensabili de Il nuovo Calcio", "Gli Indispensabili di Scienza&Sport" and "I tattici" or a book of the mentioned series plus a copy of Scienza&Sport.
For more information, please visit www.scienzaesport.it.